high speed inkjet system varible data inkjet printer machine for lot numbering
1. inkjet printer for food Application Fields and Materials:
inkjet printer for food can widely used on Drinks, food, wine, cosmetics, pharmaceuticals, pesticides, pipes, floor, seeds, lubrication oil and external packaging industry field has been widely used.
inkjet printer for food can apply to Paper, plastic products, metal, glass, wood etc.

2. inkjet printer for food Introduction:
PM-100B inkjet printer for food is a kind of fast, reliable, non-contact ink-jet printing machine,inkjet printer for food can spray in most objects with online printing of all needed data .These data can be time, date, production code, bar code, the two dimension code, consumption information, or manufacturer's LOGO, product tracking information and other data, and so on.
3.Technical Datas:
Model

PM-100B

Fuselage

Stainless steel 304, surface process

Voltage

220V±20% 50HZ 100VA

Pressure

Normal operation under pressure up to 4.48bar,

under the fault conditions as high as 6.2bar.

Nozzle size

38*170.1mm

Spraying distance

Trumpet: 3.5mm Medium: 10mm spray nozzle

Jet printing speed

2m/s (5 * 7 dot matrix)

Jet printing dot matrix

32 * 140 in any dot matrix, digital,

Chinese characters, letters, charts, etc.

Spray into the number

1-4 lines, can be sprayed 34 lines of 1 points

high pattern, or four lines of 7 points, or

6 lines of 5 points high character.

Character height

Minimum character height of 1.1mm, maximum

height of 11.2mm, up to 24 points

Meter function

Arbitrary unit meter

Adapted ink

Red, black, blue, green, yellow, high adhesion,

high temperature, invisible ink, etc.

(this machine can not use the pigment ink)

Ink value consumption

500ml printing (5 * 7 dot matrix digital)

about 60,000,000 dot matrix

Temperature

-5ºC--45ºC

Humidity

50--80RH% No dew

Spray printing function

Bold characters up to 9 times, characters with

rotating function: spray print height, width

and delay can be automatically adjustable

frequency, date, and time between the word

format: fixed and variable text, size, can write

character in real time clock function, can jet

printing to seconds; USB pattern call / ink jet

printer data, backup parameters reduction function

/ software system upgrade; features a serial number,

with hexadecimal counting function a lot number and

the counting function, reverse jet printing function,

timing functions; date and event format options for a

flexible, automatic date calculation.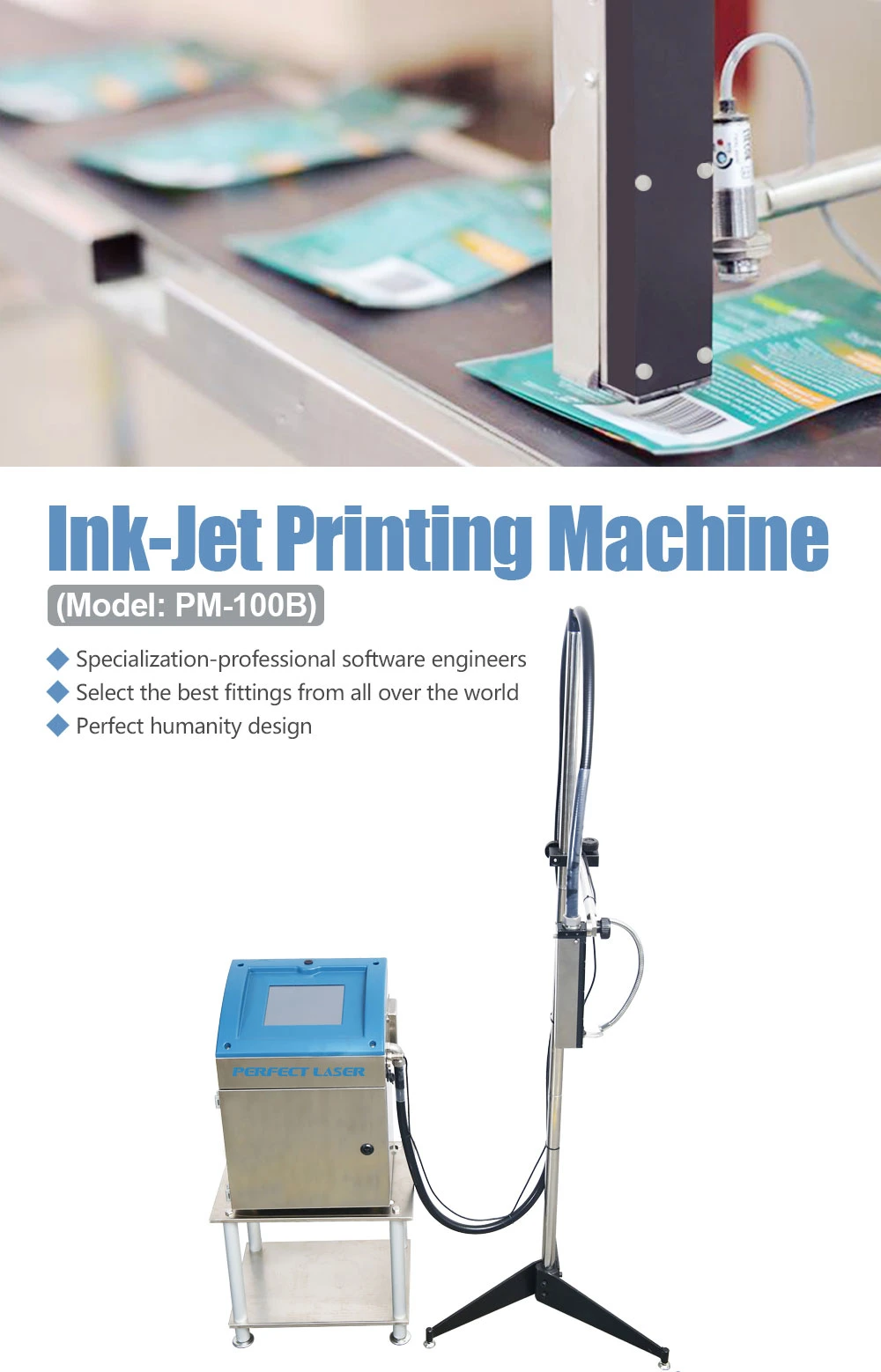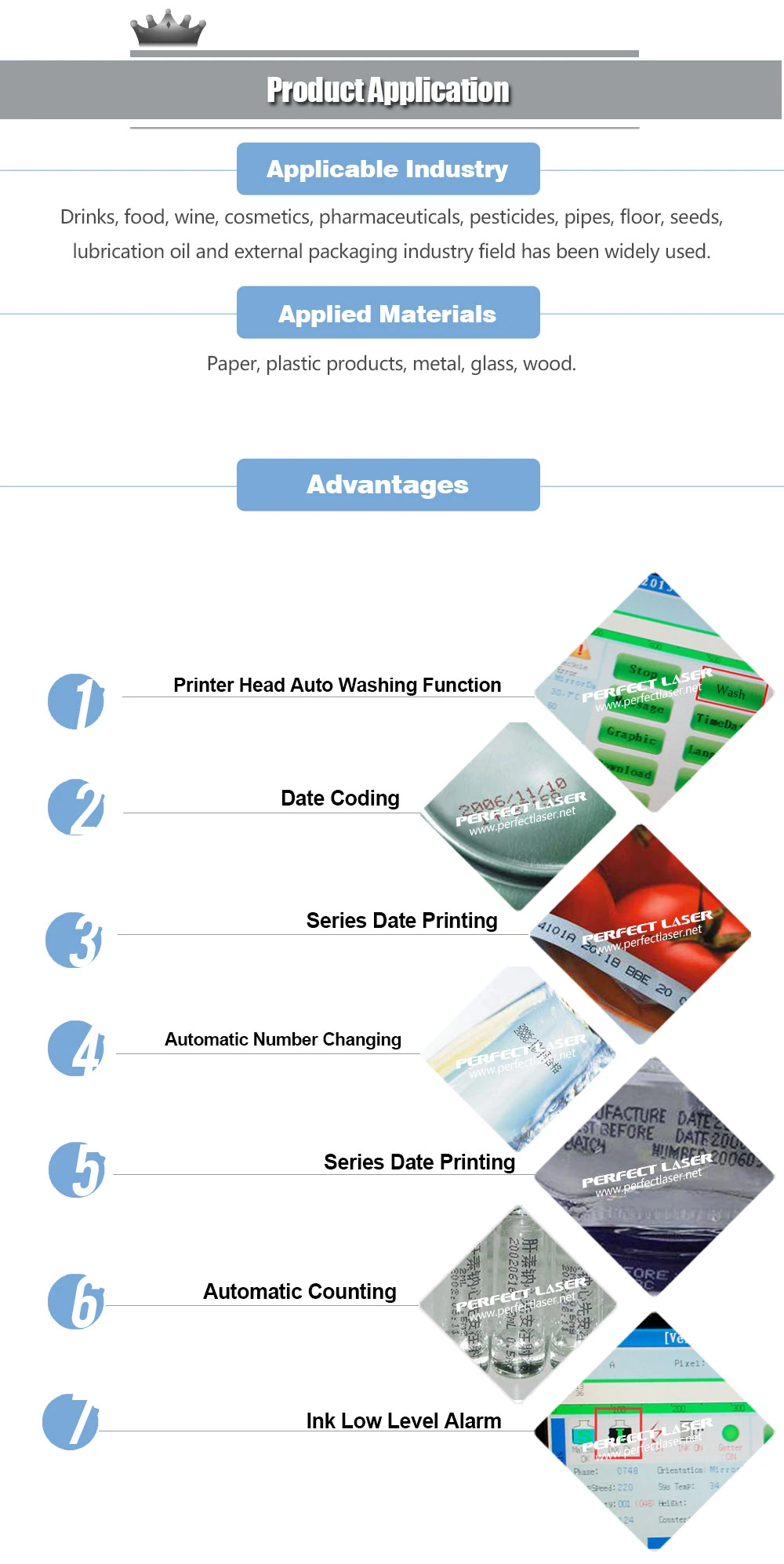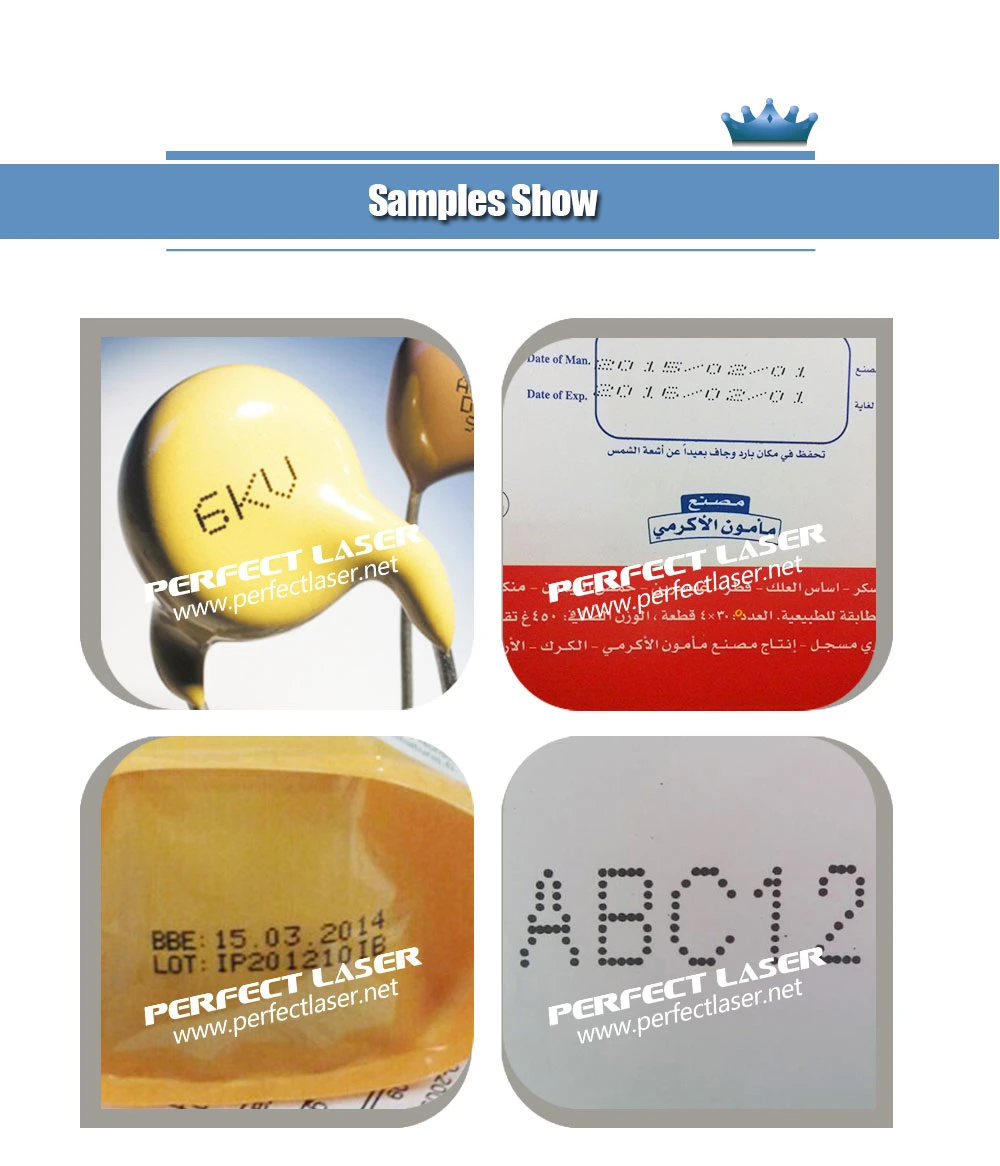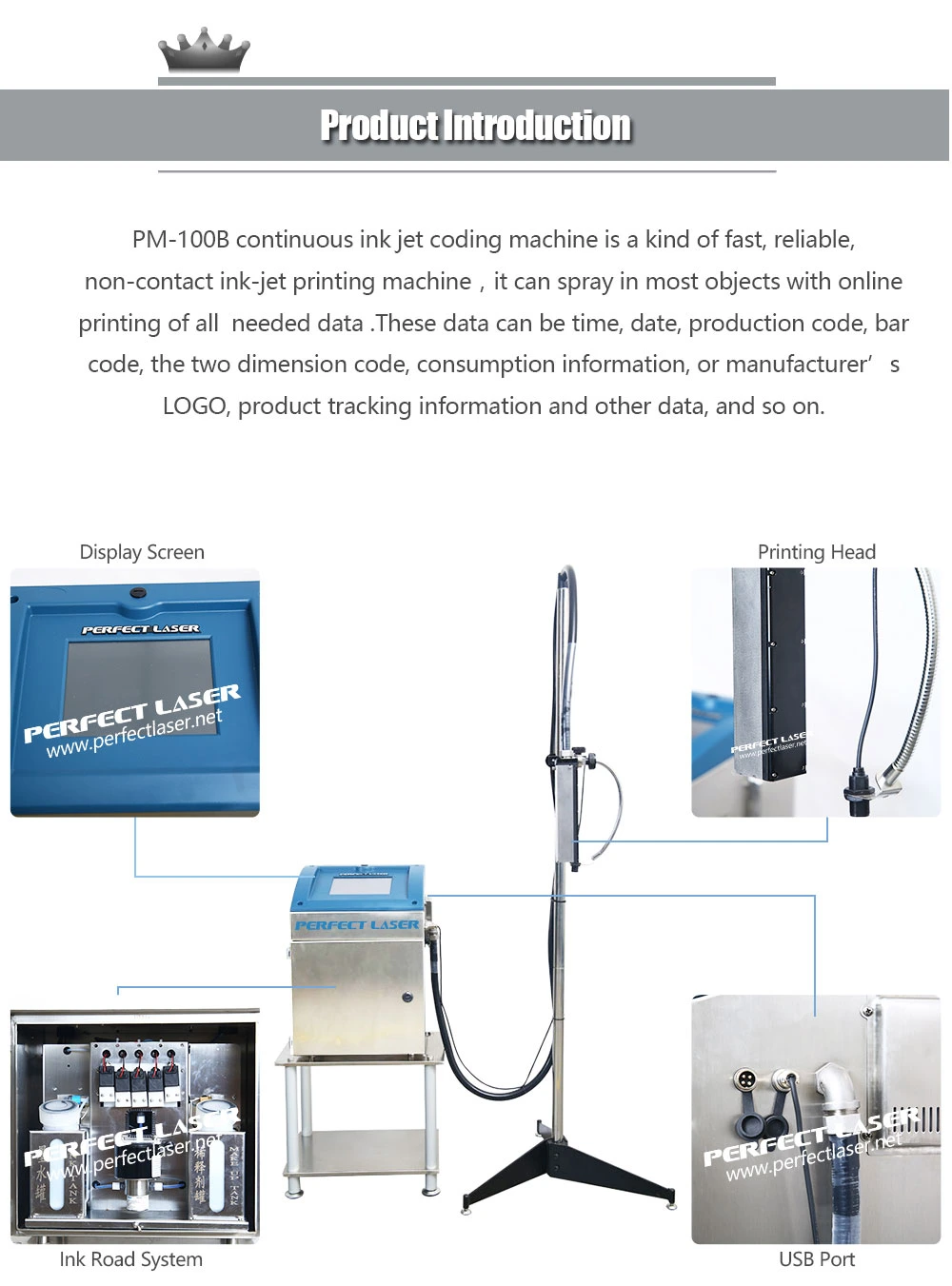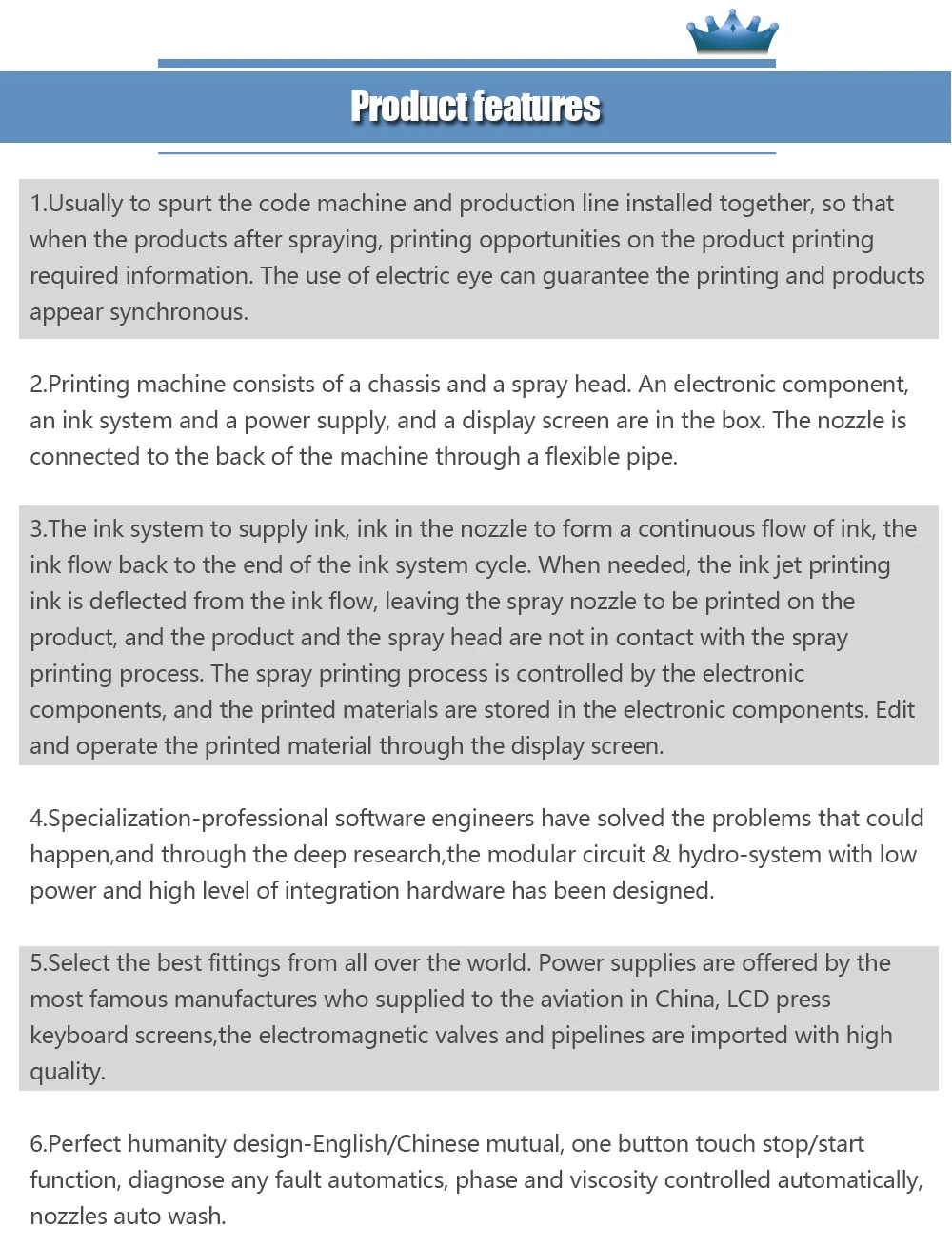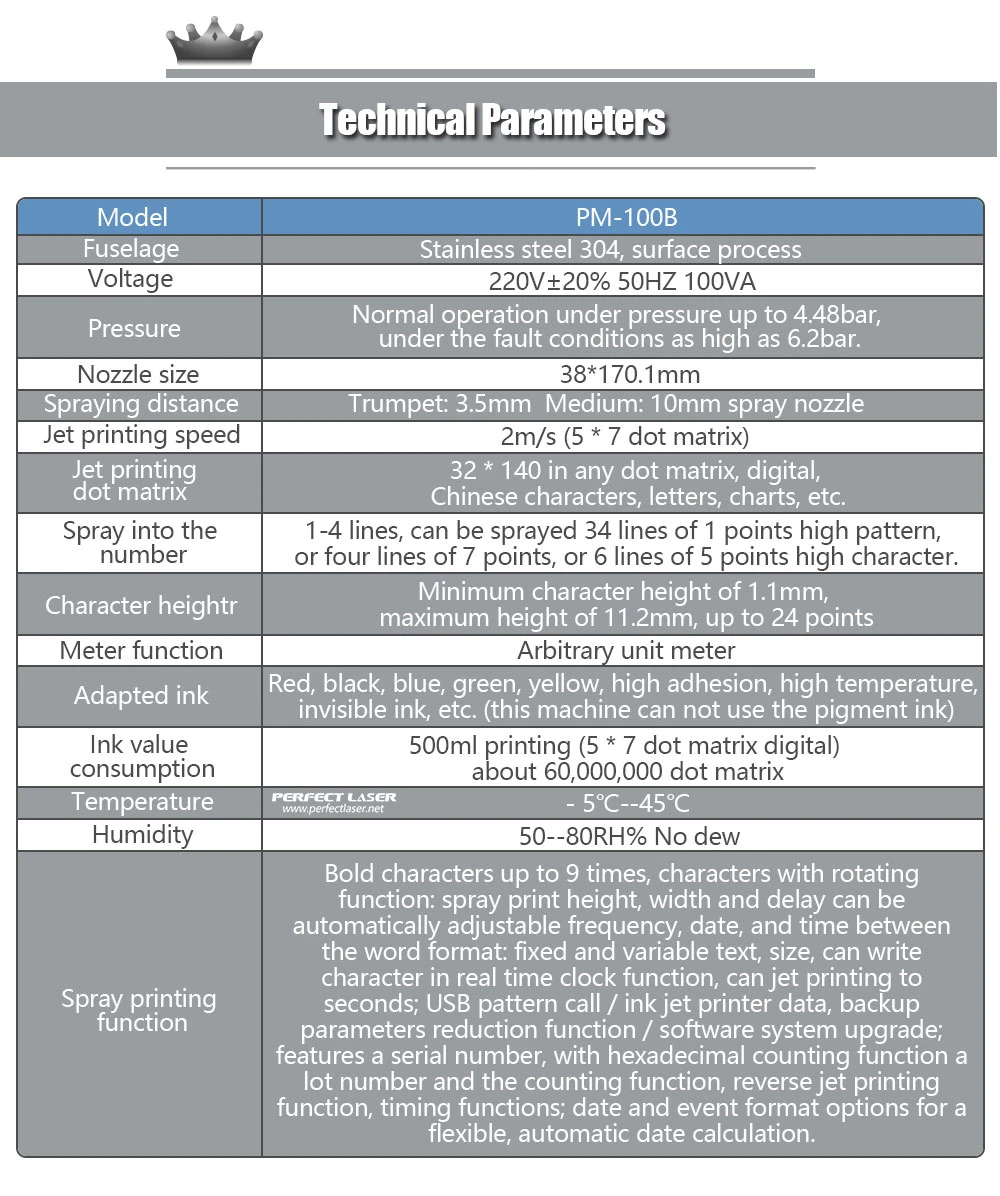 Perfect Laser Co., Ltd. (China)
Contact:
Ella Xu
/ Sales Department
Add:
HengRuichuangzhi Technology Park, No.13 YangQiaohu Road, Jiangxia District, Optical Village, Wuhan, Hubei, China(430200).
Tel:
0086-27-86791986 MP: 0086-13971609143 Fax: 0086-27-86775865